Nshera FC (2005-2010), the Season X Champions have responded to President Museveni's call and came in to help disadvantaged Kampala residents in light of the coronavirus pandemic. The team, named after the glorious morning white porridge at the Den, made sure to donate the same in rhyming fashion.
Much as the donation has come as the country is transitioning to live with the virus and enable the continuity of economic activities, Nshera guys believe it is a step in the right direction towards helping people adjust to live after the lockdown.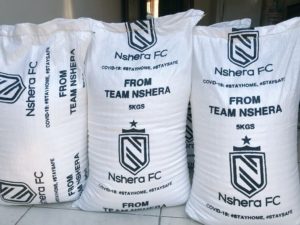 "It was just a noble cause really that we felt could inspire others to do the same. Much as the lockdown is ending, we know that it's effects will transcend for quite long. Many people think that once we open, that's it! But no. There are so many people out there that lack basic necessities and we want to resonate in many, the spirit of continuous giving!" Nshera Forward Elijah Wanyama (WanMan) said in a telephone interview.
Nshera, that didn't have the best of soccer last season and struggling to stay in the top half, enhanced their social and networking aspect that saw them bag the Smartest Team accolade at the end of the season.
We commend their efforts to help and society and encourage them to keep it up.