By Steven Nuwagira
However, Emma, a two time champion with FC Kabali (Season 7) and Abashweki (Season 9) is yet to earn his original team name on the shield. He received the Player of the Season Award for season 9 after his wonderful performance and display with Abashweki on their journey to win the trophy.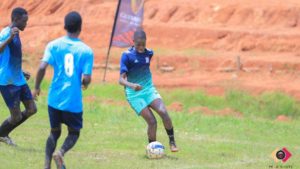 Emma scored 4 goals in season 7 with eventual champions Kabali before netting 16 goals the next season with his own SC Kalele. The skipper would later join Abashweki for season 9 where he scored 15 goals prior to returning to Kalele for season 10 and managing to put 10 goals past keepers. Emma has now scored 5 goals this season and the future looks very bright for the Kalele striker.
Talking to his team captain Waalz Elijah after the Abashweki game on Sunday, Emma was described as one of the most over – zealous players in the league and a hardworking member of the team who has not only mentored his team mates at Kalele but the entire league.
Kalele now sit 11th on the log after 6 matches with just 8 points and of course the team looks up to him to be pivotal if they're to bounce back.
Additional reporting by Twin Philemon.